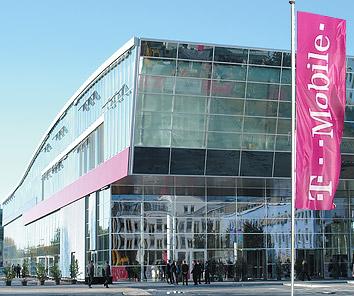 After declining for decades, today's unions are apt to unionize anybody who can afford to pay union dues (and some who can't afford it).  Even if workers have no real issues with their employer, are paid a more than competitive wage and have great benefits, unions are just not happy unless they've gotten their peice of the workers' pie.
Take, for example, the workers of T-Mobile, a subsidiary of Deutche Telekom. The T-mobile workers in the U.S. get competitive wages and benefits, as well as union-free.  That doesn't sit well with the Communications Workers of America, a union whose day is long past.
The call center popped up in the news last month when Northampton County controller Steve Barron stepped into controversy by making what some deemed veiled threats against T-Mobile for resisting unionization efforts.

The Democrat, who was reprimanded by County Council, inserted himself into a labor-management struggle that extends far beyond the Lehigh Valley and has been going on for nearly a decade.

The Allentown call center is among the largest of 24 centers T-Mobile operates in the U.S. as a subsidiary of Deutsche Telekom. The German firm bought the cell-phone provider, then known as VoiceStream Wireless, in 2001, helped through regulatory hoops by support from the Communications Workers of America.

The union was hoping the German company's reputation for cooperating with labor would spill over into its new U.S. subsidiary, but it has been unable to organize T-Mobile workers and blames company management .
If a company truly abuses its workers or pays substandard wages, union may be a temporary answer.  However, it is usually only temporary as, very often, those companies won't survive in the marketplace.
However, all too often, for today's unions, unionization is no longer 'about the workers,' it is about market share and revenues.  Like it or not, today's unions have outlived their usefulness in all but the most egregious of cases.  It's time to move on.
__________________
"I bring reason to your ears, and, in language as plain as ABC, hold up truth to your eyes." Thomas Paine, December 23, 1776
For more news and views on today's unions, go to LaborUnionReport.com.