GREEN BAY, Wis., Jan. 25, 2011 /PRNewswire-USNewswire/ — The following is being released by FRED 2011, Fred Gegare and the Fighting for the Members campaign www.fred2011.com: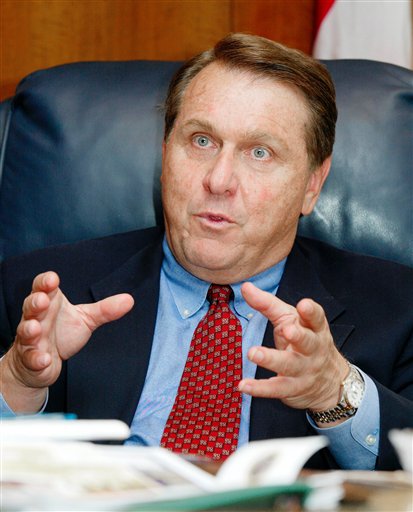 An official investigation by court-appointed IBT Election Supervisor Richard W. Mark into corruption charges against James Phillip Hoffa, his campaign staff and three of his Vice Presidents, including his running mate Ken Hall, revealed "a culture, or mindset where elected union officials do not clearly distinguish between their fiduciary responsibilities to the union and their separate political objectives of achieving election."
In addition, the investigation uncovered "conduct that showed no recognition that campaigning cannot be conducted through and using the union structure itself."
James Phillip Hoffas integrity deficit was further highlighted when investigators cited his campaigns repeated violation of Election Rules, particularly those "arising from the prohibition against campaign use of union resources."
For details on the investigation, see: http://fred2011.com/docs/Election%20Supervisors%20Decision.pdf
Fred Gegare, an IBT Vice President who split with Hoffa and is now challenging him for General President, isn't surprised by the Election Supervisors findings."
Anybody who knows James Phillip Hoffa knows that this is just more of the same," according to Gegare, "He only cares about himself and will lie, cheat and steal if it serves his purposes. He talks about unity but his actions only divide members against themselves. That's not what the Teamsters are about and thats not how you run a union."
Hoffa thinks being General President is an inheritance rather than a responsibility. Twelve years of his rule have gutted our contracts and driven us to the brink of bankruptcy. While members are struggling through a tough economy, he's throwing dues money around to buy people off with stipends, raises and pensions.
"Worse, Hoffa actually thought it wouldnt be a problem to bribe IBT Trustees who oversee the unions books — and to use his candidate for General Secretary-Treasurer to do it! Well, he was wrong and he got caught red-handed this time.
"Teamsters deserve better. They expect a General President who will fight for the members. They are demanding a change and me and my slate are going to give it to them. We will put the Teamsters Union back into the hands of Teamsters in 2011."
For more information about Fred Gegare and the Fighting for the Members campaign, go to www.fred2011.com or visit his Facebook page.